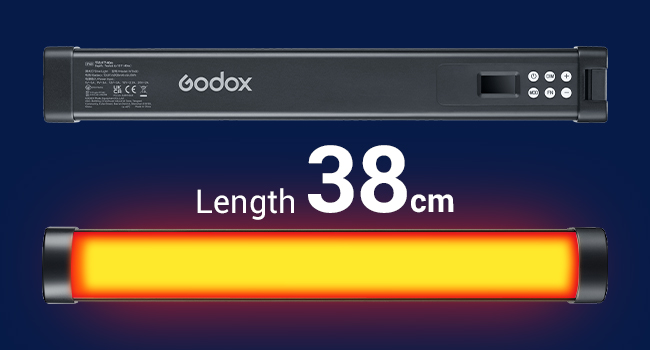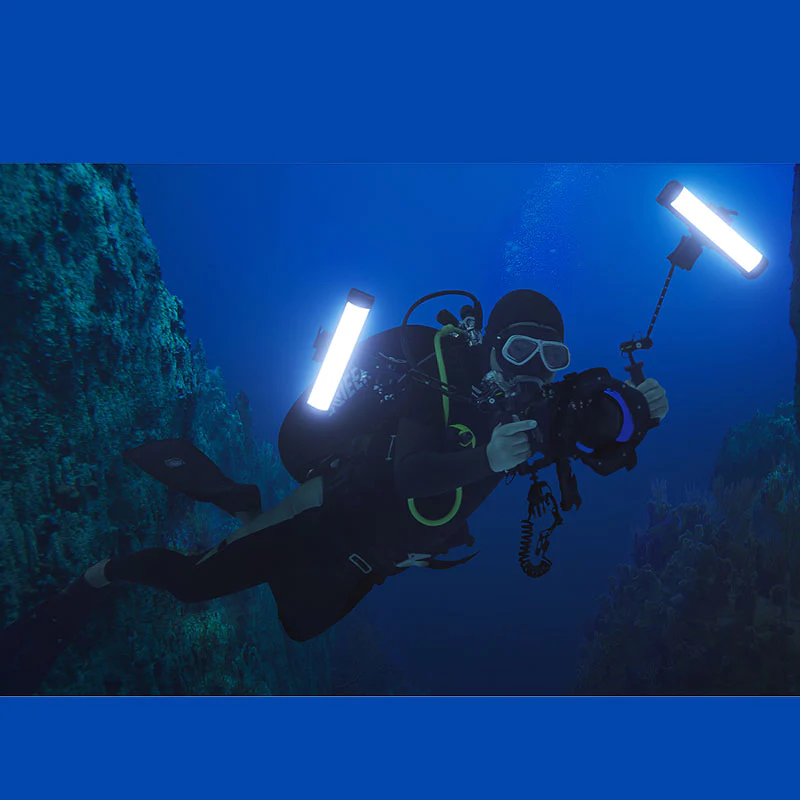 The Godox WT40R RGB Waterproof LED Tube Light is a versatile lighting solution designed for both professional and amateur photographers and videographers. With its waterproof design, this tube light is a game-changer for underwater photography and videography. It boasts a wide range of color and effect options, making it an excellent tool for creative lighting. The device features easy-to-press buttons for underwater control, and despite its compact screen, the information is displayed clearly. The light offers reasonable battery life, ensuring you can shoot for extended periods without worrying about power. Its large size allows it to emit a substantial amount of light, and the 1/4 20-inch mount adds convenience for various mounting options.
Pros:
Waterproof Right Out of the Box: The standout feature of the Godox WT40R is its waterproof design, making it an effortless solution for underwater photographers – up to 40m deep. You can use it underwater without needing additional housing, simplifying your equipment setup.
Variety of Color and Effect Options: This LED tube light provides a wide range of color and effect options, allowing you to get creative with your lighting setups. Whether you need soft, ambient lighting or vibrant, dynamic effects, the WT40R has you covered.
User-Friendly Controls: The easy-to-press buttons and clear, albeit small, screen make it straightforward to adjust settings and customize your lighting. They even glow in the dark making it easy to find them in low light situations.
Reasonable Battery Life: The WT40R offers reasonable battery life, ensuring that you can complete your photo or video shoot without frequent interruptions for recharging. It uses a dual-head Type-C charging cable with a 2-hour charging time and max 100min usage time underwater.
Generous Light Output: Thanks to its large size, the WT40R is capable of emitting a significant amount of light. It can effectively illuminate your subject or scene, making it suitable for various applications. CCT 1800-10000K, brightness adjustment range 0%-100%, CRI 96+ TLCI 96+
1/4 20-Inch Mount: The inclusion of a 1/4 20-inch mount is a practical feature, allowing you to easily mount the light on a variety of supports and accessories, enhancing its versatility.
Cons:
Not Neutrally Buoyant: One drawback is that the WT40R is not neutrally buoyant, meaning it tends to sink when used underwater. This makes it harder to mount in certain situations, so extra buoyancy devices may be required.
Large Size: While the large size (15 inch) is advantageous for generating ample light, it can also be a downside in certain situations. For more compact setups or when portability is a concern, the smaller WT20R might be a more versatile choice.
Controls Can Be Challenging: Some users may find the controls/menus a bit challenging to navigate, requiring a combination of buttons to change all the settings.
In conclusion, the Godox WT40R RGB Waterproof LED Tube Light is a versatile lighting tool with several standout features, including its waterproof design and a wide range of color options. Its user-friendly interface, generous light output, and mounting options make it a valuable addition to any photographer or videographer's toolkit. However, it does have some limitations, such as underwater bouyancy, its large size, and control usability, which potential buyers should consider based on their specific needs and shooting conditions.