Short Film – Child Of The Cenote
André Musgrove's latest work is a short film shot entirely on breath-hold and tells the story of a freediver embarking on an underwater journey through the underwater caves of the Mexican Yucatan Peninsula, called cenotes. Following the light that shines within the deepest and darkest part of the cenote, she finds what she least expects.
André spent some time with us to share his experiences working on the film:
How did you get started in Underwater Cinematography? 
I found my passion for Underwater Photography & filmmaking when I was very young. Growing up in the Bahamas I frequented the ocean and going spearfishing with my father. Most of my friends at that age did not have easy access as I did to the ocean so picking up a camera for me was my way of bringing the ocean to them. I'm a big fan of comic book superheroes and the human aesthetic so I would say this influences my work and what I aim to create.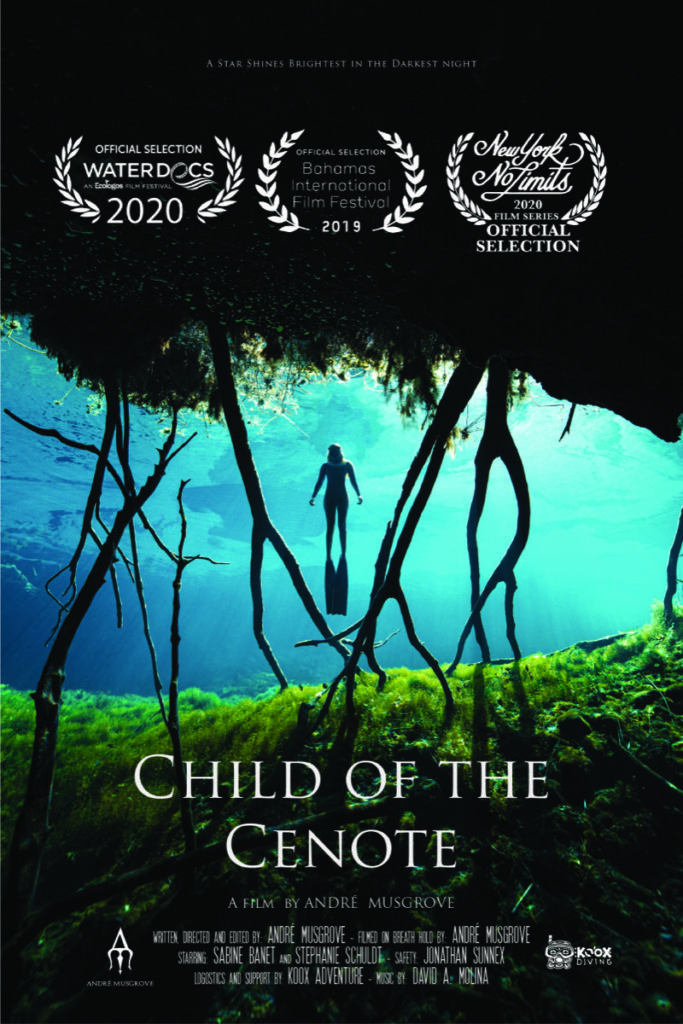 What was the impetus behind the film?
The film tells the story about a girl who is lost and trying to find her way and herself. The message of the film is motivation that in your darkest and lowest moments is when you can shine the brightness and rise above the tribulations of life. Along with their can be people in different forms that can help you along the way
Where was it shot?
The film was shot in Mexico near Tulum.
What gear did you use to shoot it?
The gear I used for the film is a Canon 1DXMK2 in a Nauticam housings with a Canon 8-15 lens and Canon 16-3 lens
Tell us about the talent and crew
The main character in the film is french freediver and underwater model Sabine Banet who has lived in Mexico for many years. Sabine is very talented underwater performing especially for the much-needed facial expression shots in the film. The other is freedive instructor and spearfisherwoman Stephanie Schuldt who is also skilled at underwater modeling and performance.
Did you face any challenges?
This entire film was shot while freediving ( on breath hold) so that alone posed its own challenges. We faced many other challenges such as cold water, tourist in the cenotes, limited time in certain locations, not being allowed to wear fins in some cenotes and more. We would shoot for long days usually waking up at 6am and shooting all day underwater skipping lunch and then eating a large dinner before falling asleep around 11pm after reviewing daily shots. We'd repeat this for about 9 of the 11 days we were on location for the film. Sabine and I also acquired ear infections from the cenotes that were very painful and prevented us from executing certain shots and concepts.
What's next?
I have a few underwater short film ideas I plan to do in the near future that will all be in the ocean and focus more on environmental matters that are concerning are oceans. In the mean time I'll be continuing to work on commercial, tv show and production jobs behind and in front of the camera. Along with diving throughout the Bahamas during private dive guided trips for freedviers spearfisherman and scubadivers.